Meet Derek and Tiffaney Burke, owners of Extreme Photography Studios located in Dallas, Texas and have been in business since 1999.
---
What's your story? Tell us about your business
In the early years, we provided digital event photography services to little league sports teams in the Dallas Fort Worth area along with small events for corporate companies. At the same time, Derek was working as a freelance sports photographer for many of the pro-sports teams in DFW. Our company was offering digital photography to these organizations long before Getty or their own in-house photographers had this capability. With our early entry into the digital photography market, combined with our experience in the corporate realm, it gave us an advantage that helped propel our company's growth.
As the industry and our company grew, we found that the majority of our business was now focused on providing event entertainment photography services such as photo booth rentals and green screen photography for large volume social and corporate events. Through the use of software that offered photo marketing and data capture abilities, it was an ideal way to connect the clients brand with the positive energy of the event, enhance customer experience, collect data, and generate leads and revenue. We now had a unique way for companies to engage with their customers and reach more fans through social media—this was a game changer for us.
---
As far as our photo booths, when we were looking for a photo booth to use at our events, we found that most options didn't suit our needs. So out of desperation (or maybe inspiration) we decided to design and build one ourselves. At that time, we saw a need in the industry for photo booth manufacturing and set up our own business to design and create booths as well as sell full turn-key systems. Eventually, with more people opting for smaller, less elaborate photo booths than in years past, we decided to close down our operation and focus on other areas of our business.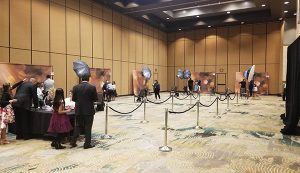 Although we still have many clients who prefer one of our larger open concept photo booths for their events, we also now offer a roaming photo booth. A roaming booth has enabled us to create that immediate interaction with the guests vs. a traditional booth that usually sits ideal the first hour. We also provide our clients the option to book themed booth attendants as part of their events entertainment!
---
Why do your customers love you?
We are known for our professionalism, attention to detail, and personalized customer service. The most common compliment we hear from first-time clients is "Wow! We were so impressed with how easy your company was to work with. You did everything you said you would do and the photos turned out great!"
Working with corporate clients can be easier. Yes, they have higher standards than average people throwing a birthday party—but once you've established a connection and found solutions for their event needs, you develop trust on future events and they don't try to micromanage!
---
Tell us about a particular event you're proud of
Our journey has taken us to the moon—and beyond. And though we haven't literally been on a space trip like that with Neil Armstrong, we've had the chance to document some unforgettable moments such as accompanying him on one of his last private trips into space for a shuttle launch.

Through our photographs, we have had the privilege and honor of commemorating a long list of amazing individuals' experiences—both celebrities' and those without publicly known names who are making their mark on this world.
Today, we continue to take a hands-on approach: by managing thousands of successful corporate and private events over the years, we have gained experience in providing our clients with only the best products and services.
---
How has working with Imaging Spectrum and Darkroom affected your business?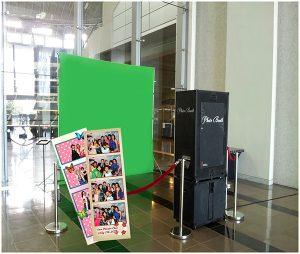 We love working with everyone at Imaging Spectrum and Darkroom Software. At first, we were with another software company, however within the first year that company was bought out by Darkroom.
It has been nearly 23 years since we first began working with them, so we have had the great privilege of getting to know and establish a business relationship that is both longstanding and profitable.
We have watched Imaging Spectrum grow from a small little office in North Dallas with just a few family/employees, into these two amazing companies that you see today. Their strong core values—which never changed despite their large growth—are what makes them so special to us.
---
Derek and Tiffaney, thank you for your time, it's always a pleasure to speak with you and having you as a customer.
-Steve