Learn from the best at Texas School 2023 with Jamie Cobb!

Our friend and long time Darkroom Software user Jamie Cobb, owner of PhotoVille, is teaching a class at Texas School that you do not want to miss!

Looking to grow your photo booth business? Trying to come up with ideas to create photo experiences your clients will love? Jamie Cobb will be holding the class EVENTVILLE where you can learn everything you need to grow your business by creating a successful experience for your clients.

View EVENTVILLE class and details at Texas School of Professional Photography
The following first appeared on the Imaging Spectrum blog in January 2021.
I am pleased to introduce you to Jamie Cobb, owner of PhotoVille.
Located in Arcadia, Oklahoma, population of 247 but located just outside of Oklahoma City, Jamie has owned PhotoVille for over fifteen years.
Tell Us About PhotoVille
The one thing that sets us apart from other event photography businesses is that we are a one stop shop. We offer full-service photography, indoor studio, videography, photo booth, high volume photo stations, social booths, mobile booth, a photo booth trailer, balloon art, social media management, outdoor games and more! We offer great customer service and follow up!
How Has Business Been?
During the pandemic we had a large in-person event cancel; the Safari Soiree for OKC Zoofriends. This event was going to have four photo booths, two mobile booths, three photographers and three videographers, plus 10 employees for welcome and check in tables. It was going to be a huge disappointment for both us and the client to cancel, so I asked if they would be willing to do the event "virtually." They said they didn't know how and didn't have the resources. So I took lead of the event and had three weeks to pull it off.
We created a two and a half hour TV show, plus a thirty-minute virtual happy hour. We produced behind the scenes videos prior to the event plus did five live break-ins during the broadcast.
People who had purchased tickets for the event could log on to watch the videos and the live segments of the Safari Soiree. We had a silent auction, virtual photo booth and 30 minutes prior, we did a "happy hour" with a bartender showing the audience how to make the drinks that we would have had at the event.
It was a big success; the client raised more money from this event than it did from the in-person event from the year before!
How Do You Like Working with Imaging Spectrum and Darkroom Software?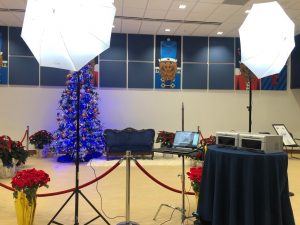 I have developed relationships that are a big asset to my business. The knowledge of the staff at Imaging Spectrum on printers and media is a huge help. They keep my DNP RX1 and DNP 620 printers up and running, and fully supplied.
Darkroom Software has helped me gain more confidence in trying new things and offering them to my clients. Darkroom Core has helped me stay current in the market during the pandemic with the virtual photo booth. I also use Core in my business for Santa and high volume photo stations. I rely on Darkroom Booth to run all the photo booths.
---
Thank you, Jamie, for taking the time to speak with us. You run a great business that offers many options to meet your clients' needs and found ways to keep things running during these rough days of the pandemic.
-Steve