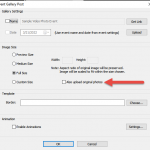 Sometimes, in addition to the photo strip, your photo booth customers may want to see, download and/or share the original images from a photo booth session. With the latest update to Darkroom Booth it is easy to automatically upload the original images from a photo booth session to Event Gallery. If you already have Event Gallery, set up is as simple as checking an option in the Event Gallery settings window. Click on the screen shot to the right or watch this video for more.
Visit the Darkroom Help Center to download the latest update to Booth 3. This is a free update for Booth 3 owners who are current on their software maintenance plan.
If you are new to Event Gallery, visit this page in the Darkroom Booth Help Center to see how to set it up with Darkroom Booth.
You can start a free trial of Event Gallery by visiting this page on the Darkroom Website.
Please comment below or contact our support team if you have any questions.