With Darkroom Booth version 3 it is possible to post VR 180 and 360 images to Facebook. Checkout some samples of VR 360 images posted to Facebook from Darkroom Booth. These images are really cool when viewed on a smartphone but will work in a browser too.
Now, here are some guidelines for creating your own 180° and 360° templates.
360° Templates
The dimensions for a 360° background are 6000 x 3000 and the file type should be PNG. The PNG must be a 2:1 ratio and needs to be warped to spherical coordinates (see image below).
It is best practice to place the photo node in the middle of the picture; the closer you get to the edge of the photo the more warped an object will become.
You can use any camera as this template utilizes a standard photo node.
You CAN NOT print a 360° photo. It is strictly for social media only. You can however take that photo and crop it down to create a printable template at your desired size.
360° photos are only meant to be viewed within Facebook since it is special programming through the Facebook App.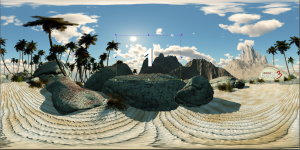 180° Templates
The dimension for 180° are anything equal to or greater than 5000 x 2300.
Photo nodes can be placed anywhere throughout the picture as a Panoramic does not need to be warped.
You can use any camera as it is just a regular photo node.
You can print a Panoramic photo but the template size needs to be different than the social media upload template. For example: you would have a template that is 5000 x 2300 for uploading to FaceBook, and, for example, to print a 6×14 you would create a new print template that is 4200 x 1800. Some Booth users have created some really cool pano prints using the built in drivers for the FujiFilm DX100.

During the photo booth session:

This is where you can get creative with what you offer your customer. You can create a print template of any size to give to your customers while also offering a fun and impactful social media 180°/360° experience. The key to doing this is keeping your photo node the correct aspect ratio from template to template.

Download the free template from the Darkroom Template Store and give it a try!