Photographer Spotlight: Extreme Photography Studios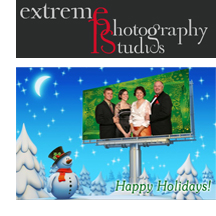 When you visit the website of Extreme Photography Studios it quickly becomes apparent that creativity is king. Nothing is typical when it comes to this company — headed by owner Tiffaney Arbogast-Burke and business partner Derek Burke. Since starting up Extreme Photography Studios in 1999 the company has stayed at the forefront of the Dallas/Fort Worth photography industry by utilizing as many tools within DARKROOM software as we have ever seen.
Whether they are bringing Santa's workshop, photo booths, green screen, and paparazzi to clients (to name only a few of their services), we often look to Extreme Photography Studios for inspiration. Heading into the holiday season, we were curious to ask Tiffaney her thoughts on how her products, marketing, and business may change over the course of a year.
Click here to visit Extreme Photography Studio's website.
DARKROOM: Thank you for your time! Tell us about Extreme Photography Studios.
DARKROOM: How would you describe your services to other photographers?Tiffaney Arbogast-Burke: Extreme Photography Studios has been in business providing event and portrait photography services since January 1999. We specialize in large volume events such as corporate holiday parties, sporting events, charity functions, tradeshows, proms, and Santa events –- but, as our website states: Wherever people are, we can be!
Tiffaney Arbogast-Burke: We provide entertainment photography, social media marketing, and client data capture services to corporations and individuals. Our services provide our clients with the option of photo output while on-location, immediate online image retrieval via Facebook and email, and the ability to capture customer email address. Our original business strategy has not changed but we have adapted with the evolution of digital. We now offer our clients more ways to brand their products. For example, we often pitch using photography as a tool to brand the event better in social media and a way to drive traffic to our clients websites — something that would have been unheard of a couple of years ago.
DARKROOM: You do a lot of different types of photography. What do you consider your specialty?
Tiffaney Arbogast-Burke: It's all related when you think about it! Our specialty is our ability to help our clients market their brand or company through the use of photography. Everyone loves having photographs taken, so it is a great tool for companies and charities to brand their logo or product. For example, a wedding reception photo booth, while not a corporate brand it's similar in that the bride and groom want their guests to remember their event. We will "brand" each photo booth image with the bride and grooms name and date, and the guests can immediately upload their images to their Facebook, or email, making the photo even more valuable to the client and guests.
Our ability to brand, print, upload, capture customer emails address (for our corporate clients) all can be utilized in so many ways… corporate parties, bar mitzvahs, tradeshow booth draw, proms, the list is endless!
DARKROOM: Do you have a product specialty?
Tiffaney Arbogast-Burke: We have a long line of offerings to our customers, however, my corporate clients love our ability to immediately upload an image to Facebook or Email because it drives traffic to their website or Facebook page and it allows them to do pretty elaborate data retrieval which is incredibly valuable and totally new. Not until now were corporate clients able to see an actual return on investment from their branded giveaways. It's an exciting time. [These features became available with DARKROOM Version 9.1]
DARKROOM: How long have you been using DARKROOM?
Tiffaney Arbogast-Burke: We originally owned Sports & Event [DARKROOM's software predecessor]. We bought it in 2001 and switched over to DARKROOM pretty quickly when it became available.
DARKROOM: Does owning DARKROOM influence what your offer to customers?
Tiffaney Arbogast-Burke: Absolutely. It enables us to drop in backgrounds and overlays for photo prints, buttons, magnets and print in multiple size packages in the most minimal amount of time. It's a great workflow system. When you are working large volume events, every second is money.
DARKROOM: How does Extreme Photography Studios get new business?
Tiffaney Arbogast-Burke: Word of mouth is our first avenue. Referrals are a big part of our business. We use social networking sites to connect to our clients such as YouTube, Facebook, and now Google+. Depending on the product we are marketing we also advertise or network on websites that draw a specific type of client. For example, we advertise our photo booth rentals on The Knot.
DARKROOM: Have any tips for our readers on how to do more business?
Tiffaney Arbogast-Burke: There is no specific program or roadmap for staying in business, but for us it takes a lot of personal commitment and staying connected with our clients. If I am in the area I'll take a client to coffee or send cookies every once in a while. Client testimonials and referrals are important to our new sales, I believe it's just as important as the traditional forms of marketing and advertising that we do.
DARKROOM: What about now — getting closer to the holiday season — how is your marketing different now that other times of the year?
Tiffaney Arbogast-Burke: We send out holiday marketing materials via email and standard mail to our client list advertising our services for the holiday season. During the holidays we offer Santa photography, Santa visits, and we have a 30-foot by 30-foot Santa's Workshop display with authentic Santa Claus as an event rental. We typically start advertising as early as July all the way through the first part of December. We also modify our online search engine optimization tactics leading up to the holiday season to focus on our holiday services and packages.
DARKROOM: What about your portrait business?
Tiffaney Arbogast-Burke: We have a beautiful studio and five acres of outdoor landscape that gives us competitive advantage. However, our portrait business is by referral only allowing us to focus our marketing efforts on our event photography services.
DARKROOM: What is your favorite feature in DARKROOM?
Tiffaney Arbogast-Burke: The ability to email photos to the client and post images directly to Facebook in the software. Both of these features are new in Version 9.1, but they have quickly become my favorites -– and big revenue generators.
DARKROOM: Thank you so much Tiffaney and everyone at Extreme Photography Studios!
Tiffaney Arbogast-Burke: Any time! Thank you, again for taking the reins of DARKROOM and for Version 9.1. The new ownership has really made a difference in such a short amount of time and we are happy to be a part of it all!
Newsletter subscribers got a sneak preview of this article. Sign up today for more articles, special promotions and DARKROOM tips that are exclusive only to subscribers!