We're very excited to introduce you to Cosy Can Photobooth, a vintage trailer photo booth company based in Ontario, Canada. We spoke with Shawn Brittan of Cosy Can Vintage Travel Trailer Rentals, and here is his story.
Introduction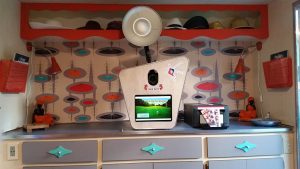 As a photo booth business, I don't think we're much different than most. But what does set us aside from others is that our vintage travel trailer photo booth was custom built using plans and designs to make it look like something right out of The Jetsons.
Using Darkroom Booth Software

That second monitor is used to run slideshows on the entrance side of the trailer. It has been a great attraction for our guests, there's usually a crowd around and the guests get a kick out of seeing themselves on the screen as soon as they come out of the trailer.
It's my first year in the photo booth business and Darkroom Booth 3 has so many features. So far I've focused on the slideshow feature, along with audio and video.  Other than that I've only scratched the surface of Booth 3 features. Running video on the monitor is our next goal and I'll need Darkroom Booth for that.
Working with Imaging Spectrum
I was never into photography and knew nothing about the photo booth industry. Imaging Spectrum played a key role in directing me to what hardware would be needed, and how to connect and run a second monitor which is now one of the most popular features of the booth.