For this profile we met Sharon and Brandon Stokey, owners of Stokey's VDub Photo Hub. Here is their story.
Introduction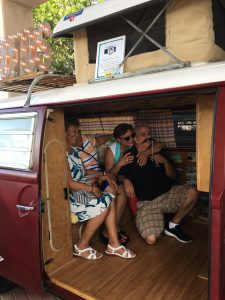 Stokey's VDub Photo Hub is a fully functioning photo booth within a VW Bus. Step in, sit down, say "cheese", and just 8 seconds later your 2 photo strips are handed to you by one of our friendly booth attendants.
Ruby's (the VDub Photo Hub) interior decor pays tribute to the Florida of the past with vintage postcards and brochures dating back to 1968. With new bamboo headliner, new flooring, new upholstered seats, and new curtains- she's ready to roll.
Ruby is also versatile; she makes the best back drop for group photos or selfies.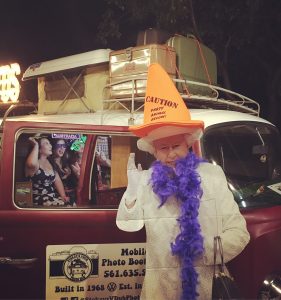 Why do your customers love you?
Customers love the uniqueness of our photo booth. They enjoy that Ruby's exterior makes a great photo prop for selfies. We are also known for our top-notch customer service. Our goal is to make people smile. Our customers love reminiscing about their VW Bus experiences, it makes us so happy.
Working with Darkroom
Darkroom Booth has been a great tool to use in our VW bus.  The ability to customize the events to the customer's unique needs, works well with the unique nature of our brand.