Photographer Spotlight: Ian Griffiths
Bedfordshire, England's Ian Griffiths of Event Photos has no problem dealing with tough clients. Not only has he secured contracts with corporations like Avon and British Gas, he had to audition for Simon Cowell.
In his own words, "When Simon, Cheryl, Dannii and 'the other one' decided that auditionees for the X Factor should have the opportunity of a souvenir photograph to celebrate the occasion, they came to the best — us!" (For those U.S. American Idol and X Factor fans, the original X Factor is the British brainchild that spawned the U.S. version and it is just as big as American Idol is in the U.K. as it is here.)
We had the chance to interview Ian before he started a whirlwind tour with the X Factor and he offered some great advice for event photographers.
DARKROOM: What was it about Event Photos that (you think) made the X Factor consider you the most qualified or best for them?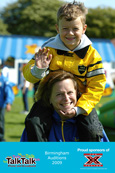 Ian Griffiths: The original proposal was to be able to provide plain photos. I suggested they should add a border to all the photos with the X Factor logo and their sponsor, Talk Talk. The idea was very well received … so much so, they asked my competition to offer the same service and demonstrate it for them during our final pitches. I used DARKROOM for my presentation because I only use DARKROOM. I was told, after I won the project, that my primary competitor used different software and it 'failed spectacularly.' It goes to show that you get what you pay for and my DARKROOM software just paid for itself twenty-fold.
DARKROOM: That's a good story! Speaking of DARKROOM, are you using any of the other functions of the software during your X Factor shoots or just the template feature?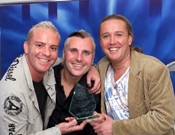 Ian Griffiths: DARKROOM is the only software at any event… we use nothing else. We will use it to import directly from the cameras, display on screens, add the border and print instantly. Honestly, after close to 14 years using the software I will not even consider anything else. I have been solicited to review and demo other so-called 'alternative event software' and every time, when put under pressure they fail. It's a lot worse when you have to switch from application to application for proofing, displaying and printing… whether on site or in the comforts of my studio, something always goes wrong. But not with DARKROOM.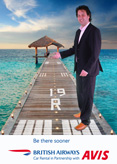 DARKROOM: That is one great endorsement. Thank you. We're pretty proud and love compliments. For our readers, I promise, one last question about DARKROOM before moving on. Any tips you care to share on how to use the software as effectively as possible?
Ian Griffiths: I have a few. For one, I have a dedicated PC laptop with no other programs loaded other than DARKROOM for my events. It's a matter of insuring there will be no issues. That also includes zero internet connection. On those event machines I don't have to worry about virus protection or other power saps and I can disable any audio visual stuff for extra power. That and I clean up the hard drive often. Maximizing the energy of the laptop is my biggest tip.
DARKROOM: You mentioned you had more than one?
Ian Griffiths: Wasn't that three? (laughs) I will also mention trying to get as much training as you can and also, this is a good one, shoot files in small batches, say 50-100 images. I have learned that regularly updating the displays [using Event Presentation Mode] encourages re-visits and greater sales.
DARKROOM: How are you going to get the best pictures out of your subjects? If it is anything like the U.S.'s American Idol, those kids can get crazy.
Ian Griffiths: It's going to be tough. I'm more worried about those 'parents from hell' that try to organize the photographers. We have to stay in control and on task. We only have 6 hours to get all the shots and have the majority printed. It's a 5:30am start and all photography must be finished by 11:30am because that is when the first 'refusals' will be leaving the building. Then, we will have to stay until 8:30pm when the last audition of the day will be leaving.
DARKROOM: Any quick advice for your professional peers?
Ian Griffiths: Get it right in the camera. The photography is not the most important aspect of event photography, but if you get it wrong and it hinders the workflow because you have to make corrections it will cost you in sales.
DARKROOM: Any closing advice or anecdotes?
Ian Griffiths: It's related to what I just said and it is something I said before in an earlier interview in my career. It's about the difference between event photography and studio photography: The traditional photographer walks around with the camera thinking, 'shadows, background, pixels' whereas the event photographer says 'There's 10 bucks, there's another 10 bucks, oh and another!' I'm not suggesting that you can produce poor photographs but I do see many fail because they get too bogged down in the details. We do tend to find that the best event photographers don't come from photography, they tend to come from a sales and marketing or customer service background.
It was a great pleasure for us to get to know Ian and his crew. If you want to learn more about Event Photos, check them out online at www.event-photos.co.uk.
Newsletter subscribers got a sneak peak of this interview. Sign up for our monthly newsletter by clicking here.