Bedfordshire, England's Ian Griffiths of Event Photos has no problem dealing with tough clients. Not only has he secured contracts with corporations like Avon and British Gas, he had to audition for Simon Cowell.
In his own words, "When Simon, Cheryl, Dannii and 'the other one' decided that auditionees for the X Factor should have the opportunity of a souvenir photograph to celebrate the occasion, they came to the best — us!" (For those U.S. American Idol and X Factor fans, the original X Factor is the British brainchild that spawned the U.S. version and it is just as big as American Idol is in the U.K. as it is here.)
We had the chance to interview Ian before he started a whirlwind tour with the X Factor and he offered some great advice for event photographers.
DARKROOM: What was it about Event Photos that (you think) made the X Factor consider you the most qualified or best for them?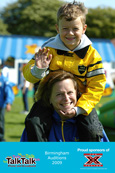 Ian Griffiths
The original proposal was to be able to provide plain photos. I suggested they should add a border to all the photos with the X Factor logo and their sponsor, Talk Talk. The idea was very well received … so much so, they asked my competition to offer the same service and demonstrate it for them during our final pitches. I used DARKROOM for my presentation because I only use DARKROOM. I was told, after I won the project, that my primary competitor used different software and it 'failed spectacularly.' It goes to show that you get what you pay for and my DARKROOM software just paid for itself twenty-fold.
DARKROOM: That's a good story! Speaking of DARKROOM, are you using any of the other functions of the software during your X Factor shoots or just the template feature?