Update – this feature now supports myphotoinfo.com. You or your customers can generate your own QR codes using myphotoinfo.com
Use QR codes as slate cards to improve your school and sports photography workflow. This new feature can save you time, money and create new opportunities for high volume photography using sales stations in a networked environment. This is a recently added feature to Darkroom Core and Pro photography workflow software. This is a free update if you are current on your maintenance plan. Visit the Core / Pro download page for updates.
In this short video, Eugene will walk you through the features and benefits and show you how to set it up. See below for more options and screen shots.
When using this feature you can choose from these options
Use a "Command" code (see below)
Rename images on import based on the QR code (multiple images will add a number to the end of the QR code data)
Add the QR data to the EXIF comments field
Create a new sub catalog based on QR code data
Here are the current QR code command codes available:
(new subevent under top-level event)
*S – new subevent 01, 02, …
*S3 – new subevent with 3 digit 001, 002, 003, …
This works for *S1 thru *S9. Really only needed if you know you will exceed 99 subevents.
*S=name – new subevent with specific name (re-used if already exists)
*S=name## – new subevent with specific name numbered in order:  name01, name02, name03
This will always create the new subevent and never reuse an existing subevent
Any number of digits can be specified, e.g. #### or #####
Subevent numbering can be specified anywhere in string, e.g. *S=prefix####suffix
*Note that all of the basic commands use a capital S
Export images and retain catalog structure as the folder structure.
1. Create a digital media package and add %catalogname% to the end of the destination folder path.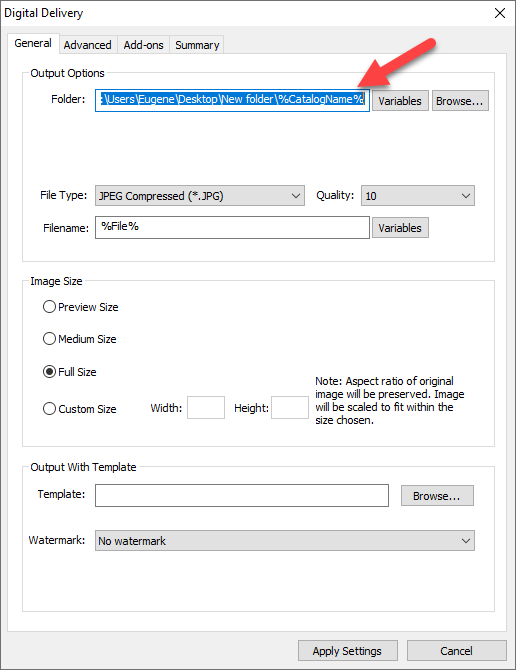 2. Use The batch option with the settings below to process all the image in the catalog.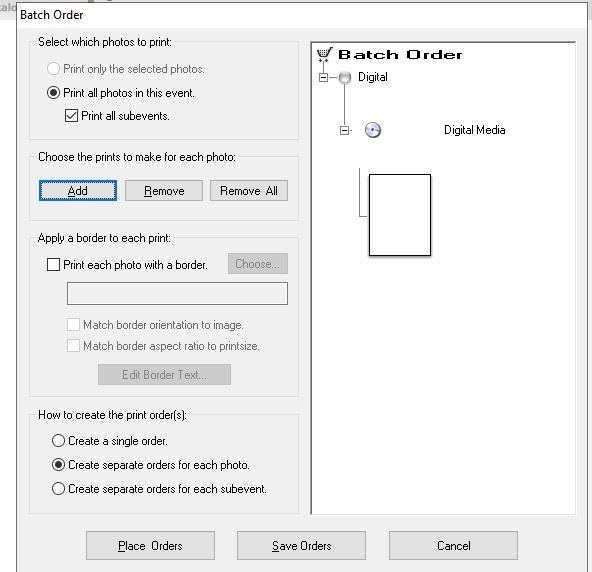 Please comment below with questions or let us know how you plan to use this new Darkroom Software feature in your photography business. For support please contact our support team by visiting the Darkroom Help Center or by emailing support@darkroomsupport.com