Although square prints have been an option on roll dye subs for a while, there was great buzz about them during PBX 2018. Many printers have done square prints including 6×6 on the Mitsubishi K60, Steve did a post on it in a previous blogpost. Please remember, 4×6 media comes out of the printer horizontally which is why you can print and cut 2-2×6. You cannot cut a 4×4 on 4×6 media on any dye sub printer. To cut 6×6 square prints you need 6×8 media and to print 5×5, you need 5×7 media. Your software must be able to send a square print to the printer. You cannot send a 6×8 photo to a printer set to 6×6 as it may either not print and error out or cut in an odd place.
DNP recently released firmware and drivers for the RX1HS and DS620A printers for 6×6 on the RX1 with 6×8 media and 5×5 on 5×7 and 6×6 on 6×8 media for the DS620A. Visit the official DNP support page for the latest firmware and drivers. The DS40 has the 6×6 capability in the firmware but it is not available within the DNP driver. The DS40 can do 6×6 only with the built in DS40 driver in Darkroom Booth and it is not available in Darkroom Core or Pro at this time. View our selection of DNP media.
On the Mitsubishi printers, the CP-K60DW-S and CP-D90DW do 5×5 on 5×7 and 6×6 on 6×8. The CP-D70DW only does 6×6 on 6×8. The CPD70DW does not do 5×5 at all.
The HiTi 525 can print 5×5 on 5×7 and 6×6 on a 6×8.
The Sinfonia CS2 has a really neat option; It has the 5×5 on 5×7 and 6×6 on 6×8 media. However, it can also cut 1-6×6 and 1-2×6 on a 6×8 to give you a square print and coupon or other photo option.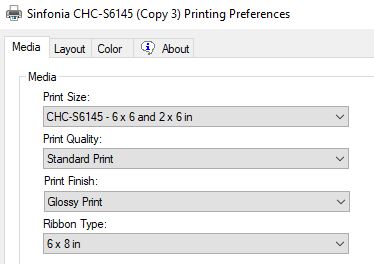 When printing 5×5 and 6×6 it should decrease the print time by around 1/3 on 5×5 and ¼ on a 6×6. For 8×8 on the 8×10 printers. The Sinfonia CE1, the DNP DS80 and DNP 820A can cut 8×8 on 8×10 media. The FujiFilm DX100 printer has 4", 5", 6" and 8" wide paper. It can print from 3 ½" to 39" long. It can easily print, 4×4 on 4" paper, 5×5 on 5" paper, 6×6 on 6" paper and 8×8 on 8" paper. Currently the Brava 21 does not offer any square prints.
Here is a breakdown of printers that have square cut capabilities,
| | | |
| --- | --- | --- |
| Printer | 5 x 5 | 6 x 6 |
| Mitsubishi K60 | Y | Y |
| Mitsubishi 70DW | N | Y |
| Mitsubishi 80 DW | Y | Y |
| Mitsubishi 90 DW | Y | Y |
| Hiti 525 | Y | Y |
| Sinfonia CS2 | Y | Y |
| DNP DS40 | N | * |
| DNP 620 | Y | Y |
| DNP RX1 (and HS) | N | Y |
| Ciaat Brave 21 | N | N |
| Fujifilm ASK-300 | N | N |
*for the DS40, under 6 x 6 is only available with Darkroom Booth