Photo Booth Expo was unfortunately cancelled this year, but we wanted to find another way to offer learning experiences from our Darkroom Software team. Join us on February 22nd through the 25th for exclusive online classes presented by Darkroom Software.
---
Monday, February 22
Create a Virtual Booth with Darkroom Core
10:00 AM Central
Presented by Eugene Wise
Over the past year virtual booths have become a buzz. The crazy thing is that this is a feature set that has long been a part of Darkroom Core software. Eugene will cover the basics of a virtual booth, how to set up and operate one event or multiple events at the same time all from the comfort of your home.
Digital Delivery with iPad Booth and Event Gallery
2:00 PM Central
Presented by Wally Carnes
Learn how to deliver digital photos to your customers' smart phone by text or email. Enable customers to view photo galleries, share photos and order photo products right from their phone. Session led my Wally Carnes, Operations Manager for Darkroom Software.
---
Tuesday, February 23
Booth 101 – Setting Up Your First Event
10:00 AM Central
Presented by Eugene Wise
Learn how to set up your first photo booth event using Darkroom Booth software. Eugene will cover basic software set up and configuration in a easy to follow teaching style. This class is perfect for those using Darkroom Booth for the first time. Learn how to set up your booth now and prepare for the photo booth recovery.
Chroma Key Photography (Green Screen)
2:00 PM Central
Presented by Bill Vahrenkamp
Learn basic and advanced techniques for chroma key (green screen) photography. Chroma key is a crowd pleaser for photo booths and an invaluable tool for school, sports and event photographers. Bill will cover lighting techniques, equipment, backgrounds, props and more in this 1 hour seminar.
---
Wednesday, February 24, 2021
Basic Photography Techniques and Lighting for Today's Photo Booth
10:00 AM Central
Presented by Wally Carnes
Photo booth photography can be challenging. Learn basic photography techniques specific to today's modern photo booth. Topics covered will include how to choose a camera, camera settings, lighting equipment and set up. Learn the basics to ensure you deliver the best photo quality to your customers to keep them coming back for more.
Photo Printing and Printer Troubleshooting
2:00 PM Central
Presented by Bill Vahrenkamp
Whether you shoot schools, sports, events or photo booths, you know things can and will go wrong. Learn the basics of photo printing and printer troubleshooting so you will be ready. Bill will cover some of the more popular photo printers, what can go wrong and how to prevent and or fix.
---
Thursday, February 25, 2021
Template Design for Darkroom Booth
10:00 AM Central
Presented by Eugene Wise
Learn how to design templates that your customers will love and pay for. Eugene will cover basic and advanced techniques while he shows the power, simplicity and versatility of designing templates in Darkroom Booth. This class will include a little Photoshop for those that like to dabble but photoshop skills are not required.
---
About the Presenters

Eugene Wise
Eugene is a Software Specialist for Darkroom and very much a power user. In his spare time he is a professional photographer, graphic designer, a bit of a computer geek and a devoted dad.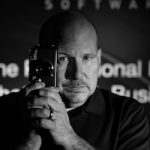 Wally Carnes
Operations Manager and Support Guru for Darkroom Software, Wally is a 35+ year veteran of the photography industry. He has managed a professional studio, shot countless weddings and events and set up many photo booths.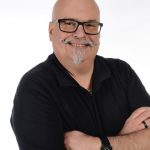 Bill Vahrenkamp
Bill is Technical Support manager for Imaging Spectrum. He is also a certified PPA Master Craftsman and has been a professional photographer for 25 years.