Designed from the ground up for event and sports photographers, no other software is faster or more efficient for photos with Santa Claus
Whether you are shooting photographs with Santa on spec in your studio or in a large volume mall, Darkroom software has you covered. The workflow is simple – shoot pictures, pick the best pose, zoom or crop then print with the touch of a key or click of the mouse. The software will format add a border if wanted and print a simple 5×7 or an entire package of different sized prints, you can even send the photo to an email or text – all in the background while you keep shooting. Worried about covid and social distancing this year? Easily add a second monitor for parents to view away from the photographer and Santa. Considering a virtual holiday scene? Add a Santa Claus and a Christmas holiday back drop to the scene using Darkroom's powerful green screen features. All you need is a laptop, camera, printer, cables and lights and you are ready to shoot photos with Santa. Here are other reasons why Darkroom software will make your Santa photography business easier, safer and more profitable.
No software is faster or easier to use.
Take photo, print, email and text instantly.
Use Greenscreen for Virtual Santa!
Built in drivers for most photo printers that are faster than any other program available!
Apply templates automatically or choose from many on the fly with a couple of simple clicks or keyboard shortcuts.
Two Monitor Capable so you can follow social distancing rules!  No more people trying to look over your shoulder or crowding around a laptop.
Photos can be emailed or texted automatically.
Real time upload to a custom gallery for online viewing.
Use templates with "movable" props like candy canes, presents, etc.
Easily make unique creations and packages on the fly in seconds.
UPDATED FOR 2022 Buy Darkroom now and save $50 – use coupon code Santa2022 when checking out.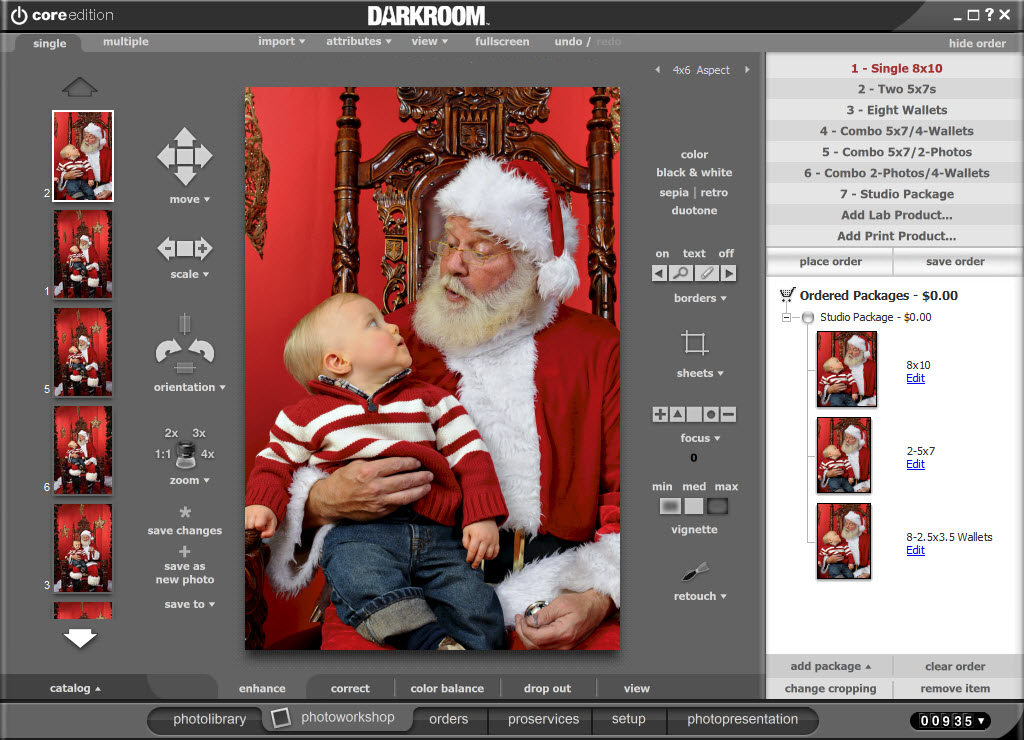 Capture. Print. Deliver. Darkroom.