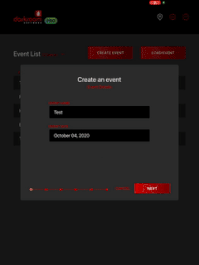 Darkroom Software released an updated version of their popular Apple iPad photo booth software – Darkroom Booth for iPad. The update became available on the Apple iOS App Store today.
Added are two new 2x6x2 strip modes for better compatibility with Apple AirPrint. You can now offer your customers two 2×6 photo strips. Also added are icons to bet­ter vis­ualize what your still mode lay­out looks like.
To help you get started with this new feature we have provided two photo strip guide PSD templates. Download for free from the Darkroom Templates store:
http://www.darkroomtemplates.com/4×6-strip-type-1-sample-guide-psd-booth-for-ipad/
http://www.darkroomtemplates.com/4×6-strip-type-2-sample-guide-psd-booth-for-ipad/
For wireless printing we recommend the DNP Wireless Control Module which works with photo booth printers including the DNP DNP QW410 Compact Printer. For more information on how to use the DNP WCM with Booth for iPad see our tutorial video on YouTube . For additional printing solutions including the powerful Darkroom Hotfolder App see the Booth for iPad section of our help center.
If you have not tried Darkroom Booth for iPad you can learn more and start a free trial right now by visiting the Booth for iPad product page. Please contact us if you have any questions and thanks for reading.